Collection Display Galleries: National Portrait Gallery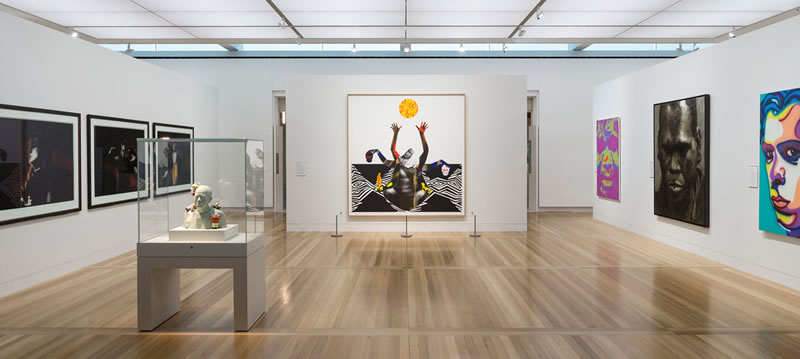 Collection display galleries
Open daily
The collection display includes a wide selection of portraits that tell extraordinary stories of encounter, exploration, independence, individuality and achievement in Australia. Visitors to the Gallery can follow the development of portraiture from oil painting to digital media.
Take an introductory video tour with our Director, Angus Trumble.
Browse through each gallery below or see the full list of portraits currently on display.
On display in Gallery One
Marilyn Darling Gallery
For the Gallery's 20th birthday Collection: Icons brings together a group contemporary photographic portraits of inspiring women and men.
On display in Gallery Two
Contemporary Gallery
An introduction to contemporary portraiture, including portrait commissions.
On display in Gallery Three
Robert Oatley Gallery
Colonisation, settlement and dispossession; portraits from 1780s to the 1840s.
On display in Gallery Four
A&S Liangis Gallery
Portraits signifying events that wrought a profound impact throughout the second half of the nineteenth century.
On display in Gallery Five
John Schaeffer Gallery
Portraits that traverse the decades between the First and Second World Wars.
On display in Gallery Six
Tim Fairfax Gallery
Portraits which document the flourishing of social and cultural diversity in Australia during the second half of the twentieth century.
On display in Gallery Seven
Ian Potter Gallery
Gallery seven is currently housing the Express Yourself exhibition.
❊ When ❊
Days
: Monday, Tuesday, Wednesday, Thursday, Friday, Saturday, Sunday
2018-11-19 , 2018-11-20 , 2018-11-21 , 2018-11-22 , 2018-11-23 , 2018-11-17 , 2018-11-18
Time:
10am-5pm
❊ Venue | Location ❊
National Portrait Gallery
[
view
]
King Edward Terrace Parkes A.C.T. 2600 ||
Map
Telephone: 02 6102 7000
➼ Venue: 4 Calendar events |
View Events
❊ Web Links ❊
➼
Collection Display Galleries: National Portrait Gallery
➼
www.npg.gov.au
❊ Be Social ❊
Publisher Statement
: Details can change at any time. Readers are advised to check with the advertiser (links above) before proceeding.
➼
Advertising Disclaimer
Tags:
Canberra, Art, Art Exhibition, Hilda Rix Nicholas, Canberra Centenary
Update This Page