What's On | Wednesday 17th January 2018..
| | |
| --- | --- |
| ❊ Culinary | Wine & Dining ❊ | |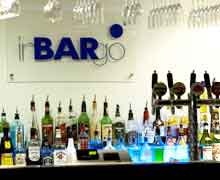 Workday Wind Down
Monday to Thursday from 4:30pm to 6:30pm, come on down to InBARgo for the Workday Wind Down. Whether its humpday, humpday cant come soon enough or its just passed, come and enjoy a couple of relaxing drinks with friends at inBARgo after a hard day.. | View More..


Angelica Mesiti
9 September 2017 - March 2018 Contemporary art galleries | Lower Ground Free entry Angelica Mesiti has long been fascinated by performance: as a mode of storytelling and a means to express social ideas in physical form. In recent years sh.. | View More..



Hyper Real | Sculpture 1973-2017
Hyper Real Sculpture 1973-2017 20 October 2017 - 18 February 2018 An in-depth survey of human figuration, Hyper Real: Sculpture 1973-2017 presents major works from 30 artists spanning more than 50 years of hyperrealist practice. Hyperrealism, pa.. | View More..



Russian Avant-Garde
European + American Art Russian Avant-Garde 19 Aug 2017 - 29 Jan 2018 After three centuries of autocratic Tsarist rule, popular uprisings in February, and then the Bolshevik seizure of power under Vladimir Lenin in October 1917 saw the collaps.. | View More..


➼ Show [4] Exhibition | Art

Australia in the Great War
Australia in the Great War is the Memorials new permanent exhibition on display in the First World War Galleries. The exhibition presents the story of Australia in the First World War chronologically, covering all major theatres of operations: Gal.. | View More..



Canberra Space Centre
The Canberra Space Centre (CSC) is located on the grounds of the Canberra Deep Space Communication Complex (CDSCC) at Tidbinbilla, about 35kms southwest of the city of Canberra. The CSC offers visitors the chance to learn about the role that Austr.. | View More..



Current Exhibitions | Australian War Memorial
The Memorial's exhibitions include permanent gallery spaces covering Australia's involvement in each major conflict, and temporary exhibitions that explore other various aspects of our military history. Plan your visit to the Memorial to get acqu.. | View More..


➼ Show [4] Exhibitions | Launch

Catch | Daily Deals
Have Catch daily deals delivered piping hot to your inbox. Do you remember Catch Of The Day, well now we're known simply as CATCH, fast daily deals delivered right to your door. Catch offers over 13,000 branded products across a wide range of c.. | View More..



KFC BBL|07 - Big Bash League
More games more venues - the new season of the Big Bash League promises to be bigger and better than ever The biggest-ever KFC BBL season will feature 43 games in 47 days as Cricket Australia today announced a bumper fixture for the seventh editio.. | View More..



Jenolan Caves | Wonders of the Underworld Tour
Journey to the 'Wonders of the Underworld' in a guided Jenolan Cave Tour. Visit one of three caves including Lucas Cave, Imperial Cave and Chifley Cave. Each tour takes about one hour with the exception of Lucas Cave which can take about 1 ho.. | View More..



Tours | Australian Institute of Sport
Visit one of Canberras most popular tourist attractions and go behind the scenes at Australias premier elite sporting precinct. You might catch some of Australias top athletes in training, and because every tour is guided by an athlete, youll get.. | View More..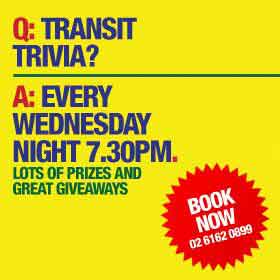 Transit Trivia
Transit Bar hosts Transit Trivia, every Wednesday from 7:30pm. Q: Whats there to do on Wednesday nights? A: Transit Trivia! Transit Trivia, hosted by none other than the Fame Trivia gang. Starting at 7.30pm every Wednesday, come down with y.. | View More..